Are you a music lover? Then it is obvious that everyone love to listen and download Mp3 music from the internet easily. However, recently the news has spread that your favorite Mp3 file format has terminated the license officially. So, what next? Which MP3 audio format will they use now? That's the reason why people search for the alternatives of MP3 file format. Well, we can understand why this type of questions comes in your mind after hearing the shocking news. So, not to worry we have the best format alternatives to MP3 Audio file format for better music.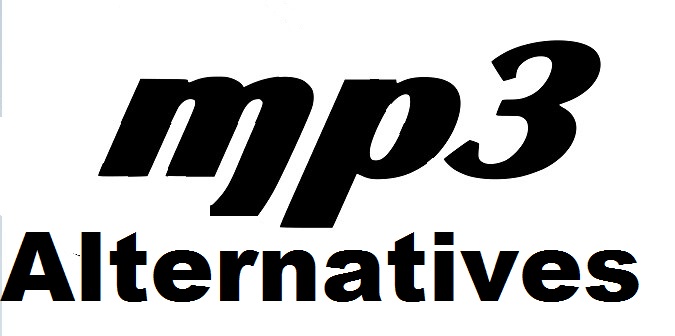 However, there are so many types of audio files that come in different sizes. You must be familiar with AAC, WAV and much more, but confused which one is better for you to continue using instead of mp3 file formats. Well, even though Mp3 audio file format is officially being terminated you can still use the formats like Mp3 which is having very much better sound quality than the Mp3 file format. So let's check out the best alternative format to Mp3 formats.
Top 10 Format like MP3 Audio File Format for Better Music
1. AAC:
AAC is the alternative of MP3 format, which provides a better sound quality as compared to Mp3 file format. This ACC has becomes popular and widely being used by most of the people across the world. As you compared MP3 file format to ACC format in sound recording then ACC is far better than the MP3 file format. Apart from that, AAC is the default or standard audio format which is used by Android, iOs, YouTube and much more. As a result, ACC is the perfect format like MP3 Audio file format that produces better music.
2. WAV:
WAV stands for Waveform Audio file format, which are compatible on MAC, Windows and Linux. There is no doubt that this file format produces better sound quality than MP3 file formats. However, one thing makes the user disappointed that they take a lot of space more than the other similar formats to MP3. Apart from that, this tool is uncompressed audio file format. You can also edit and copy the original files with the help of this Software easily on your PC.
3. APE:
Well, if you have a huge collection of music files but in a very limited space then APE is the perfect alternative of MP3 audio file format. With the help of APE file format, you will be able to save your storage space as compared to MP3 file format. However, when it comes to the quality of the sound then it might get affected as it will decrease the size of the audio file or sometimes it might remove it. But other than that, APE is the best alternatives of MP3 file format which will help you to save your storage space on your device.
4. WMA:
WMA stands for Windows Media Audio is also the perfect alternative of MP3 audio file format, which produce the best audio quality even at a low bitrates as compared to MP3 file format. The WMA consists of four audio codecs which includes like the original WMA codec, WMA Pro, A lossless Codec, and WMA Voice. As a result, there are many people gets confused whether WMA is the ideal audio file format or not. Well, not to worry about as WMA is the far better than Mp3 file formats as they produce the better and advanced music file formats.
5. AIFF:
AIFF stands for Audio Interchange File Format, which is used for storing all kinds of music files on your computer and other devices. This file format is commonly used by Apple computer systems and used mostly by the CD writers. However, if you ask whether this file format is better than MP3 file format than yes, it produces the best sound quality for the audio file format. In addition to that, this file format uses loop point data and a musical sample note which is basically used by hardware sampler and musical apps.
6. OGG:
OGG is an open source file container which produces better sound quality as compare to other formats like MP3 file format. OOG file format is smaller but powerful than MP3 file format. The best thing about this file format is that, it can access in almost all the modern media player. So, in future if you wish to choose OOG file format then you wouldn't be disappointed as this tool will solve all your problems easily.
7. FLAC:
FLAC stands for Free Lossless Audio Codec, which is an open file format with royalty free license. Mp3 uses lossy compression which human can't hear any audio sound but not in case of FLAC, as it is far better than MP3 file format in producing better music quality. FLAC is just similar to WAV as it does not take much space. In short, FLAC is the ideal similar format to MP3 file format that will reduce the size of the file formats but will maintain the sound quality.
8. ALAC:
ALAC stands for Apple Lossless Audio Codec, which was developed by Apple. It is an open source and royalty free. This tool is used for storing audio files in a lossless formats but maintaining the sound quality from the original file. However, this file format needs large storage facility as compared to other file formats. But it is the ideal alternative of MP3 file format as it produces better music as compared to the MP3 format.
9. MPEG-H 3D Audio:
MPEG-H 3D Audio has been widely used by most of the people, through which you can easily identify that this tool is the best format like MP3 file format. Without any doubt, there is no comparison between MP3 and MPEG-H on the basis of Sound quality, since MPEG-H produce the high music quality format. So, that way you will experience listening to the best audio quality with MPEG-H.
10. AU File Format:
AU is a file extension format which can be launched by certain application only. The AU file format is stored in three different parts like header, variable and the actual audio data. Basically, this audio file has been adopted by several sound recording programs like Adobe, Java and Quick Time. However, this file format produce very low sound quality but still it is much better than MP3 file format.
Conclusion
In the above content, these are the best alternatives of MP3 Audio file formats which produces better music than MP3 file format. All these formats are much better than MP3 file format based on the sound quality and also has a low bitrates. However, if you have any other audio file format in your mind then don't hesitate to share with us. But if you don't have any then you can stick with these top similar formats to MP3 audio file format that will please your ears.