Do you still remember those good old days, when we used to sit in front of TV and watch cartoons for whole day? Expecting to be like one and play with them. As the time passes by, people have moved to a new trend, but as Dan Abnett of Guardians of the Galaxy says, "History Repeats Itself", people are turning towards cartoons and trying to get involved in it.Similarly, many people are changing their social media profiles by creating cartoon of themselves and there is nothing which goes against it. It makes you look awesome, and at the same time, it makes you look like a geek. Being a geek/nerd, is one of the best qualities a person can have, because it attracts girls (not to mention that), and it also attracts new friends, because you always have something new to talk about.

Are you wonder how people turn their photos into a fully featured cartoon character? Well its not a tough task anymore you can do it by yourself without having any photo editing knowledge, because there are many websites provides this features to create cartoon character of yourself online for free. So if you like to create cartoon character of yourself then this article is for you,  Here in this article we are going to share top 10 best sites to create cartoon of yourself. So have a look.
Best Sites To Create Cartoon Character of Yourself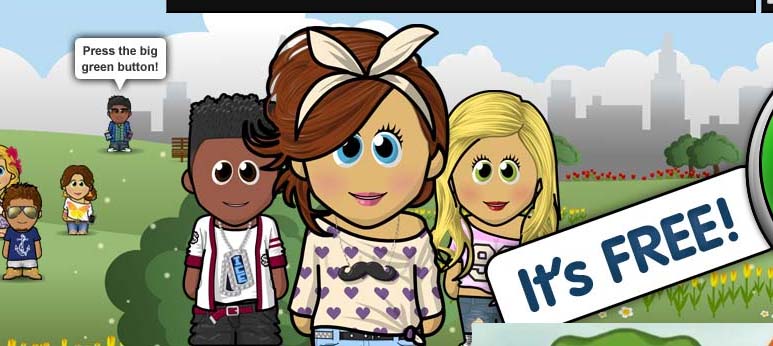 WeeWorld is an online gaming site which allows user to create their own avatar in cartoon character format. WeeWorld offers a good number of games which can be played online for free, and it inspire social creativity too. According to annual 2014 reports, they have more than 60 million mobile and web players. If you are a parent and want to know that if this site is safe for kids or not then you can read about WeeWorld more on their official site.
Now here comes the big player of the game. GoAnimate is a website which offers users to create a cartoon character of yourself and make business and professional looking videos. With GoAnimate, you can bring out the artist of you. It have a large number of options to make perfect looking animations. Not only that, they also have a vast range of solutions, from web programming, to internet marketing or entertainment. Though this website is paid, but you can use it for free for 14 days and after that you have to select a paid plan which starts from $39/month.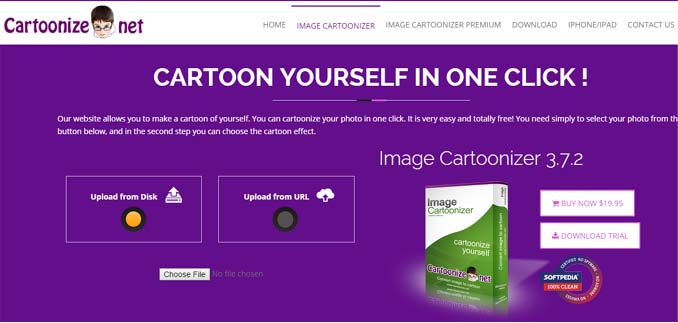 As the name suggests, Cartoonize will help you to make cartoon of yourself with more than 100 effects. This website allows you to upload and cartoonize your photo online for free. You can also download their Image Cartoonizer Desktop Software for Windows to edit your photos with it. There are two versions of this software available. One is Image Cartoonizer which can be downloaded by paying $19.95 and the other version is Image Cartoonizer Premium which is available for $29.95. If you are an iOS user, then you can also download their iPhone and iPad app from iTunes store.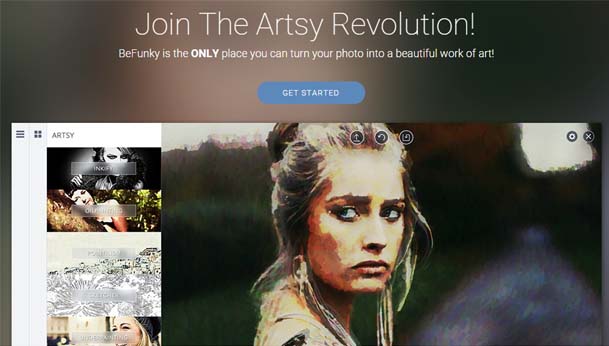 BeFunky is also known as the world's best photo editor. It allows you add some extra effects to your photos, including some cartoon effects. If you are going to use their service online, then you can upload photos from computer's hard disk, webcam, BeFunky account, Facebook, Google Drive and Dropbox. After adding photo, you can add frames, effects, graphic icons, textures and text into it. There is a paid service of BeFunky which costs $4.95 a month or $24.95 a year and allows you to use some advanced features and use thousands of other effects.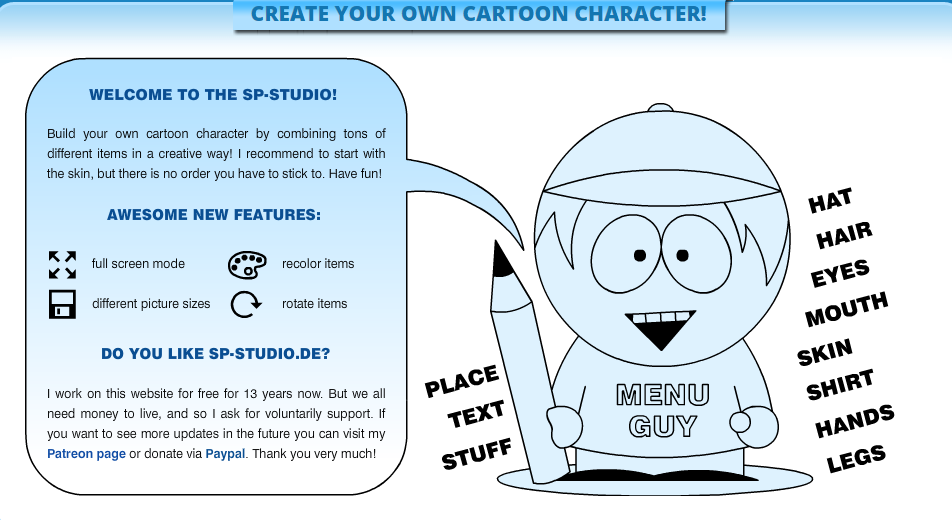 SP-Studio is another great website to create a cartoon character for free. You can combine different items to make a single person. This website is free to use, and have so much of editable things. The owner of this site asks for donation, and that can be done via PayPal or Patreon. The owner lives in Germany, so if you want then you can also send him present from his Amazon wish list. Now this website has gained so much popularity that it now, receive thousands of visitors on a daily basis.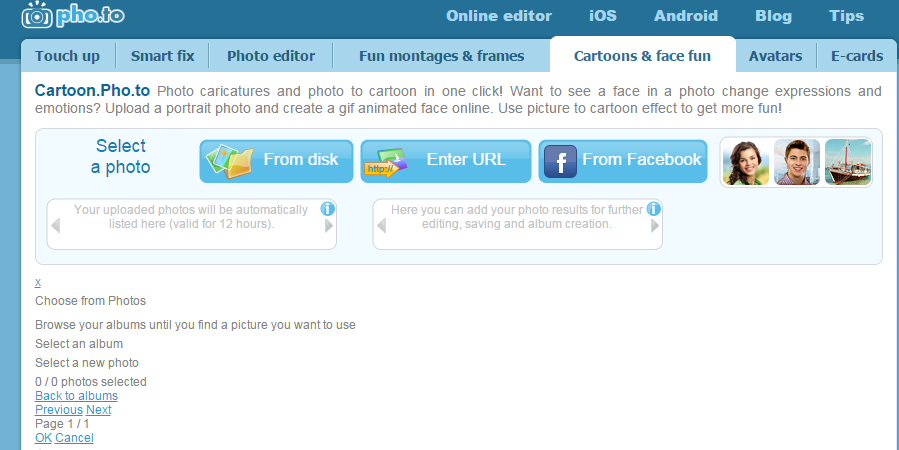 An amazing website with so many features. You can edit and turn yourself into cartoon by using their online website, android app, or iOS app. There are many people out there for whom Photoshop is a headache. Just open cartoon.pho.to website, upload your photo and add perform various functions like face morphing, changing face expression and facial animation to it. This means your lips, cheeks, eyebrows and eyelids will really be moving, just like a gif image and all this can be done within minutes.
iPiccy is another great and popular service which allows you to edit, retouch and enhance your photos online for free. Along with some basic and advanced editing and effects, there is an option to cartoonize your photos. Though the features are basic but you can use other tools like HDR, Pencil Drawing, Retro Comics to give your photos more funky. You can create collage with it too. If you are looking for a free, yet advanced photo editor to create cartoon images, then I will recommend you to try iPiccy Photo Editor at least once.
Moron Face is a unique website to edit photos and turn yourself into not less than a cartoon character. All you have to do is to upload a photo of your face, and it will create some funny facial expressions from it. You can save photo if you want. When you will visit the website, some photos will be shown to you in before and after format, so you can have better understanding what this site do. Moron Face is completely different site from all other sites mentioned in this post. It's funny, creative and passes your time in a great way.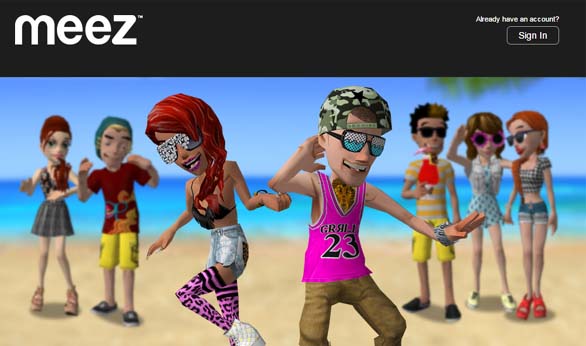 Have you ever wondered aboutvirtual world where you can create anavatar of yourself? It is an online entertainment site which allows you to create a cartoon character of yourself. There are 13 million registered Meez users, 90% of which are in the United States. Sean Ryan, the founder and owner of this website says that 60% of teenage instant-messenger users download free icons to represent themselves. So he made this simple to use and customizable cartoon characters.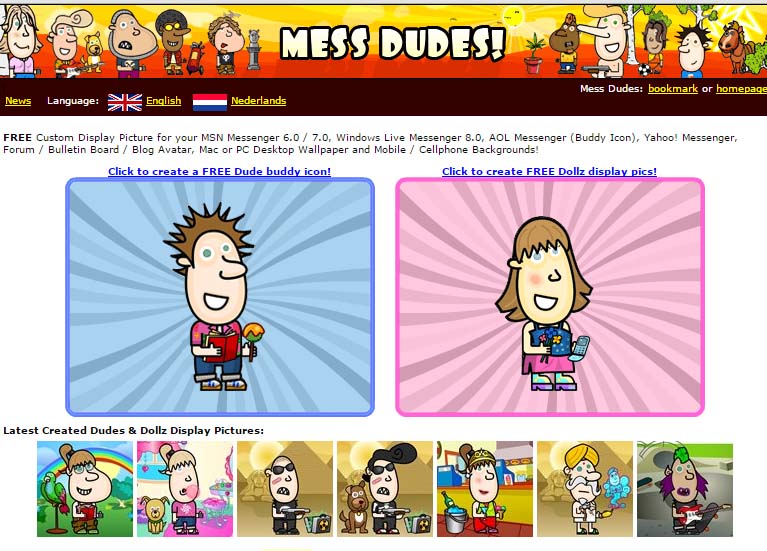 With Messdudes, you can create funny avatars which you can use on forum websites and social media websites. There are hundreds of body parts available in it, which allows you to make a doll of your choice. If you are looking for a simple avatar then you should use Messdudes.
Conclusion
So these were some best sites to create cartoon character of yourself. I think it is very interesting phase to create cartoon of yourself. You can upload your cartoonized photo on your social media profiles like Facebook, Twitter etc. It'll look more interesting, comic and funny.There are hundreds of many more sites available to create cartoon of yourself online, but the sites mentioned here are best and gives you some advanced features to create cartoon character of yourself which other don't. I hope you have liked the post and going to create a cartoon character of your own today. If you know any other great site which allows you to create cartoon character then do let me know via comments below. I would like to add it to the list.