In this digital world, almost everyone uses internet, and everyone knows about Google. Google is popular for its email service Gmail and search engine, but recently the stepped into messaging world by launching one of the smartest messaging app named Google Allo. While there are billions of people out there who uses WhatsApp as their primary instant messaging app, but you can enjoy some extra advanced features with Google Allo App. Another good thing about Google Allo messaging app is that it is available for both major mobile operating systems, Android and iOS. You can download Google Allo for Android from Google Play Store and Google Allo iOS App from iTunes Store for free. If you are not able to do Google Allo download from apps store, then we are going to provide Google Allo apk too, which you can download for your Android smartphones and tablets.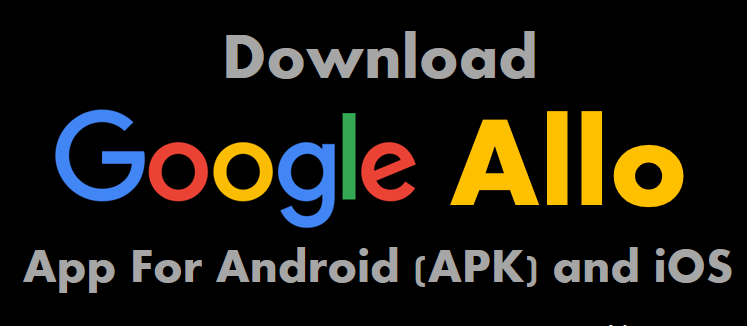 Do note that right now only Google Allo beta app is available for download, and soon some updates may come which will fix most of the current issues. Allo app was first announced at Google I/O on May 18, 2016 and from then people are waiting for this app to arrive. This is not just like a regular messaging app like Hike, WhatsApp, WeChat, etc., but Google is calling it as a "smart" messaging app as it have features like Smart Reply, Google Assistant, Incognito Mode and many more. Using this app and using Google Assistant from Google Allo app you can search for almost anything from internet right from the app. Though Google Allo app uses your Google account, but still your personal information like Calendar, Gmail, and Photos won't get shared anywhere.
Features of Google Allo App
Google AlloSmart Reply – These days everyone seems to be busy and therefore Google introduced Smart Reply option in it'sAllo app. By using this feature you will be able to reply to messages quickly, without even typing. Google Allo App is designed in such a way that it shows you suggestions for reply. For example if someone have asked you "Are you on your way?", then it will show you options like "Yup", "No" or something related to the question. If someone have sent you photos, then also Google Allo for Android Smart Reply will show you different options like "Aww cute!" or "Hahaha" or "Nice Pic", etc. to reply quickly.
Chat In Incognito Mode – This is one of the unique feature of Google Allo app that it lets you chat in incognito mode. Do note that Google Allo for Android and Google Allo for iPhone both have this feature and your chats will have end-to-end encryption. Security technologies like Transport Layer Security (TLS) is used in Google Allo app to ensure maximum security, another thing to note here is that you get some additional security features like discreet notifications and message expiration in Allo App.
Send Photos, Emojis and Stickers – Google Allo is not just for text messaging but you can also use it to send/receive photos, emojis and stickers to your friends, family and all other people who are using Allo. Messaging with Allo is fun as it gives you various options to customize your messaging, like if you will drag "Send" button up or down, then it will make your text bigger or smaller respectively. Just like that you can also edit photos using Google Allo to make them look more personal, and there are about 25 different custom sticker packs available in Allo which you can use to express yourself.
Google Assistant – Google Assistant is your own personal Assistant which will help you in every situation, you can ask it to give suggestions and answers to your queries. One thing to remember here is that Google Assistant preview edition is only available right now, and they are working on it to make it more useful. If you are doing a group chat, then you can just type @google and ask anything from it. You can get information about anything from Google Assistant like news, weather, traffic, sports, or your upcoming flights status.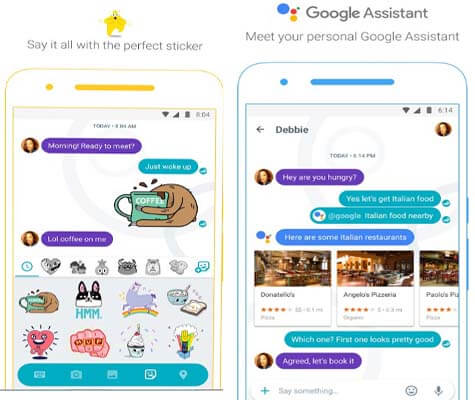 Google Allo Download For Android | Google Allo APK Latest
Android is owned by Google itself, so if you are using Android OS smartphone, then you can enjoy Google Allo for Android by downloading it from Google Play Store. If you are not able to download Allo app from Play Store, then you can also use below mentioned link to download Google Allo apk and install it manually on your Android device.Do note that you will need a device running on Android 4.1 and higher to run Google Allo Android app in it.
Download Google Allo App For iPhone | Allo iOS App
If you are using an iOS device like iPhone, iPod Touch or iPad, then you can also download Google Allo iOS app for them. Another good thing to know about Google Allo for iPhone, iPad and iPod Touch is that it is available on iTunes Store too, so you can do Google Allo download iOS app from Apple App Store for free. Do remember one thing about Allo messaging app is that, the Google Assistant is currently available in English language only, and only beta version of it is released till now.
Conclusion
Google Allo is definitely a game changer in instant messaging field, and you can enjoy some really exciting features in this Google Allo app. As I said earlier that you can do Google Allo download from official app stores, or you can use above mentioned links to downlaod Google Allo app for your smartphone devices. Though there are many more similar messaging apps like Google Allo available over the internet, but still I will recommend you to try Google Allo app at least once. If you have used Google Allo for Android/Google Allo APK or Google Allo iOS app before or currently using it, then do let us know about your views on it.