Whatsapp is the world most widely used and best online messaging Platform which can be used on Android, iOS, Symbian,Windows Phone. WhatsApp is an awesome messenger which helps users to send SMS to any other mobile for free of cost. On an average around 1 Billion messages are sent through WhatsApp every day. Whatsapp tricks and tips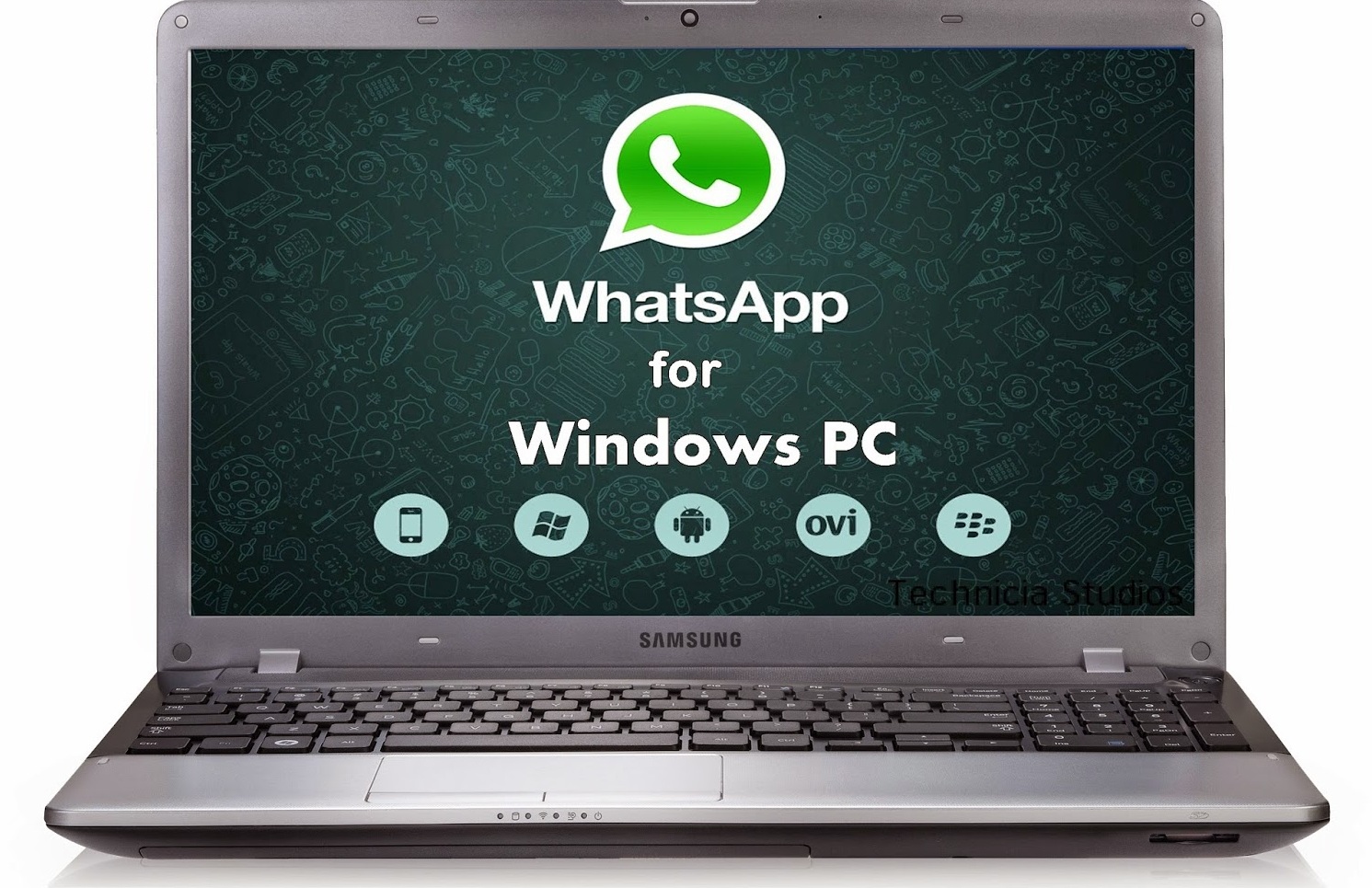 But what if all of your friends are on whatsapp and you don't own a smartphone so you cannot use whatsapp. But if you've laptop or desktop then you can use whatsapp on your pc or laptop without buying an expensive smartphone. So if you are interested in using wahatsapp on your computer/pc/laptop and looking for a way to download and install whatsapp on pc then you are at right place, because today we are going to share with you hot to download whatsapp and use it on your pc. Previously whatsapp is not available for pc but recently they've started whasapp web by which people can access whatsapp from their browser. So we've update this post with new features as well so take a look
Whatsapp Messenger For PC Features
Voice Messages:WhatsApp being world's most used chat messenger, along with text based messages supports audio chatting too. You can send unlimited number of audio records to anyone from your favourite list.
Images and Video:There are many people out there who uses WhatsApp to send media files. Like you can send unlimited number of images, videos and audio files to anyone. Do remember that currently you can send only files below 16MB on WhatsApp. But here is a trick to send more than 16 mb files in whatsapp
No Ads:There are many more chat messengers available over the internet but they lacks in providing better user experience, but WhatsApp is ahead of all in this too. WhatsApp doesn't show any kind of ads on their app, so you can have clean and clear chatting experience.
Send Your Chat Conversation:Along with audio, video and images you can share your chat conversation with others via Email too. To do this all you have to do is to click on the Menu option in a conversation then click on 'More' and select 'Email Conversation' this includes even the pictures and videos
Hide your Last Seen: Privacy is the most important thing in case of any Messenger.WhatsApp recently included privacy settings using which you can select the contacts to whom you want to share your last seen,status and DP
Groups: Similar to Facebook you can create any number of groups in WhatsApp and have a group chat with all the members of group at once
Download/Install WhatsApp Messenger for PC/Laptops with Bluestacks
First of all Download and Install Bluestacks android emulator on your PC ( Dowload bluestacks official setup). During installation if bluestacks shows graphics card error, then check how to solve bluestacks graphics card error 25000.
Once installation process is complete then run the bluestacks and click on search.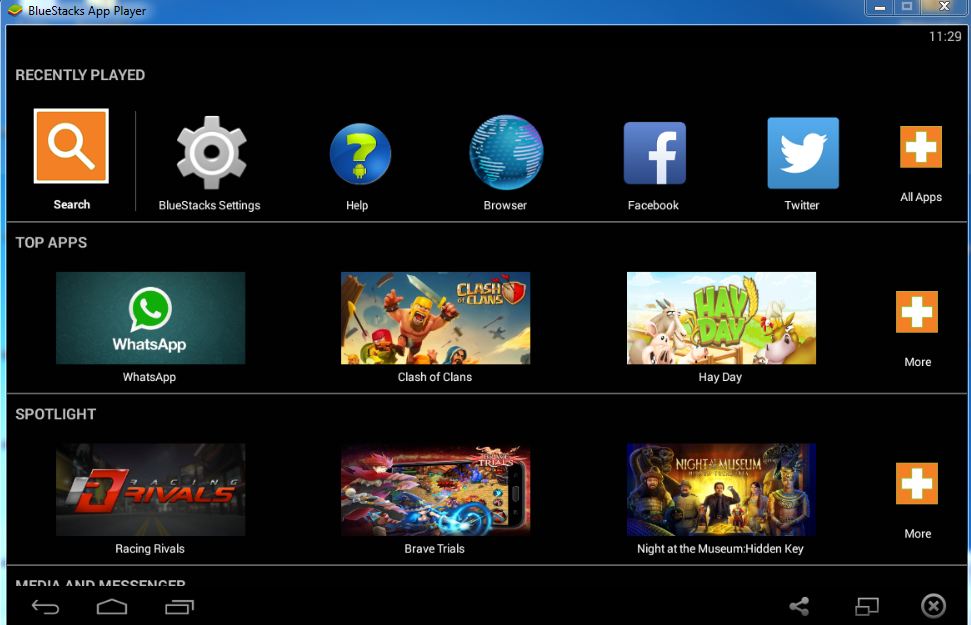 Now search for "whatsapp" and hit enter. If you are using bluestacks for first then you've to sign in with your Gmail a/c to Google play in order to install whatsapp from play store on your pc.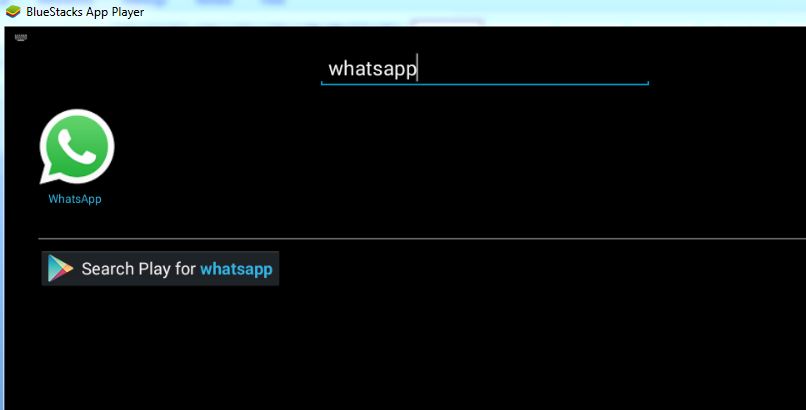 Once you've complete sign in then whatsapp app will appear then click on install and then click on Accept.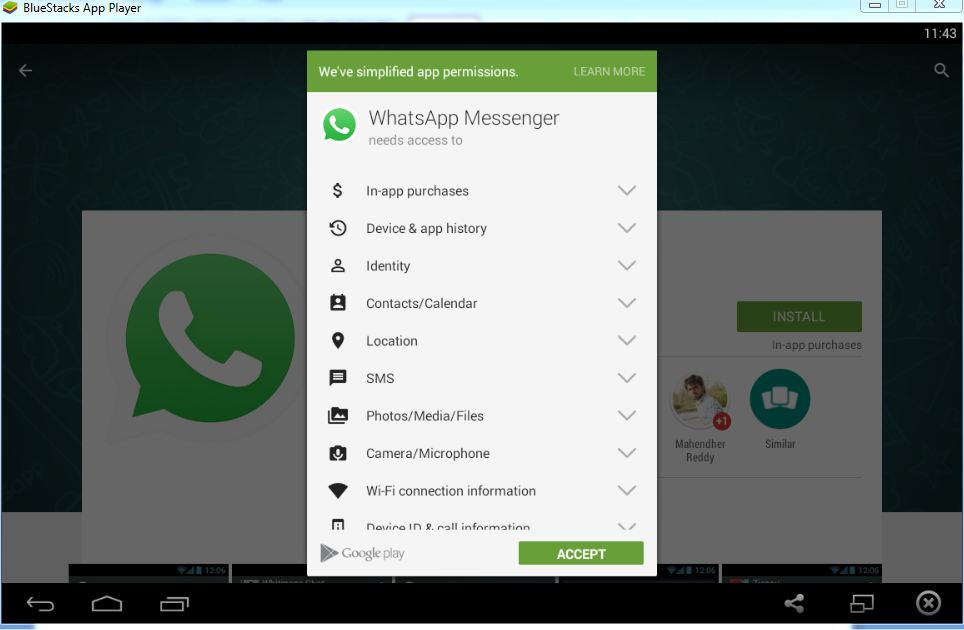 Now you'll see whatsapp started downloading and once download is complete click on Open.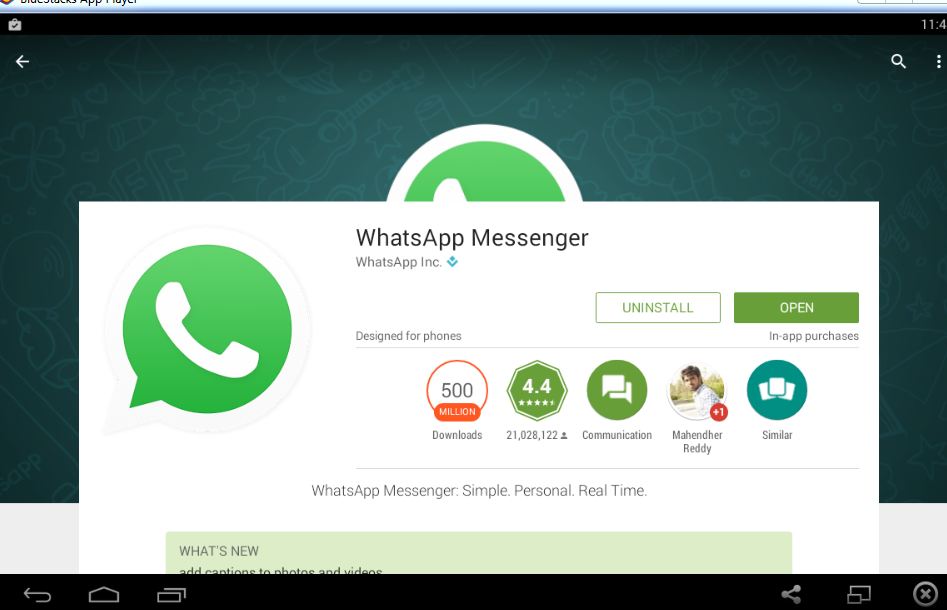 Note:  If you are not interested in sign in to google play store with your gmail then you can simple download whatsapp apk file from internet and double click on the apk file to install it
Now whatsapp will start and click on Agree and Continue.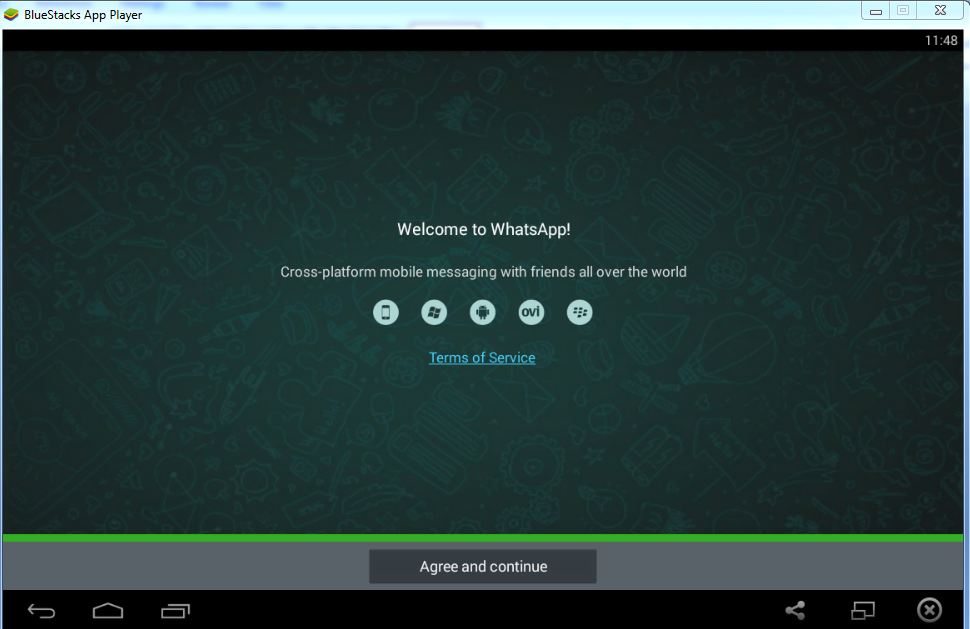 Next select your country and enter your mobile no and then click on ok.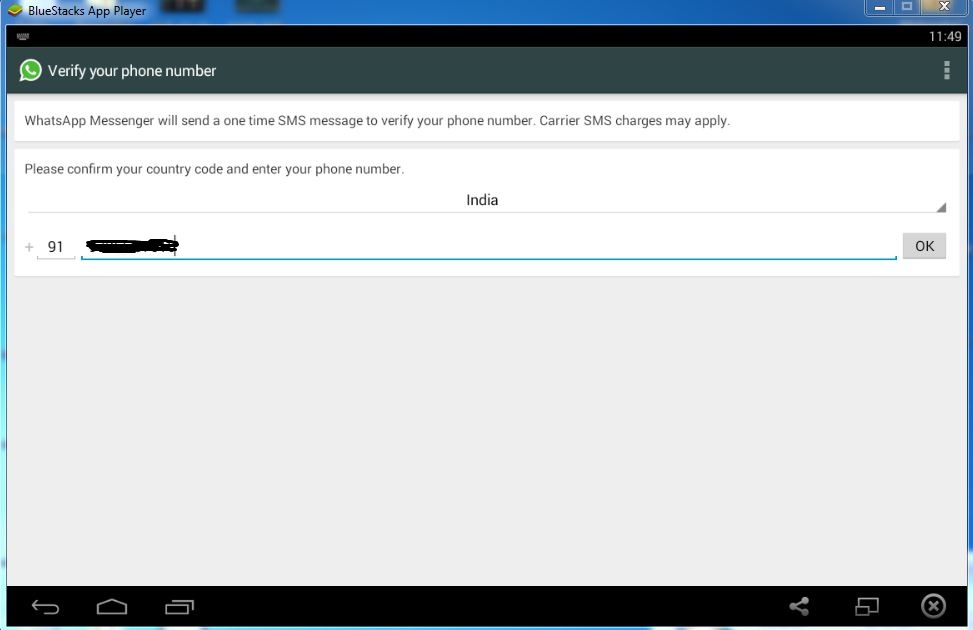 Wait for 5 minutes you'll receive a verification code to your mobile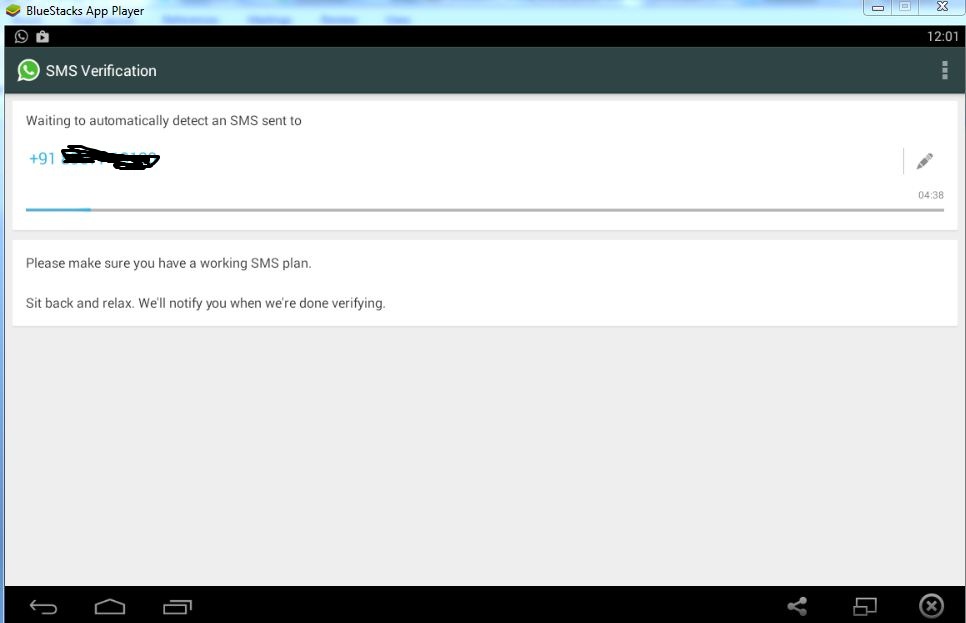 Now enter 6 digit verification code which you've already received on your mobile and your number will be verified.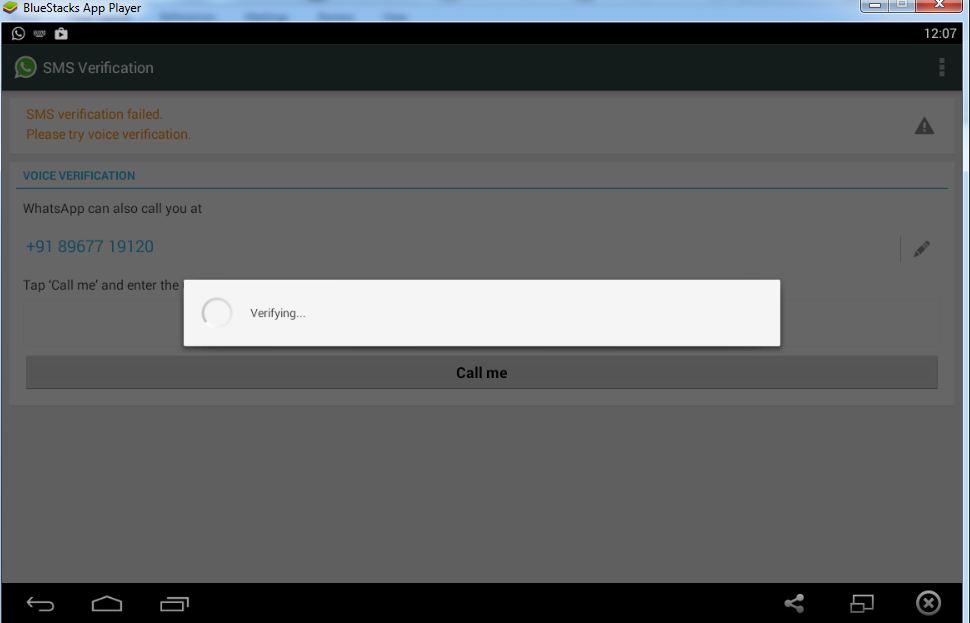 Once verified you are ready to use whatsapp on your pc or laptop.
How to Sync your mobile apps using Bluestack Cloud connect?
To use the Cloud Connect mobile app to transfer Android apps from your mobile device to your PC you need to follow below steps.
Open the BlueStacks application and Click on the settings at the right end.
Choose the option cloud connect at the top.
A box will opens and select yes and then click on next.
Enter your email Id and Mobile number and then click on Register.
Now you will receive an email with a PIN number and noted it.
Now launch the Android Market on your Android Smartphone, and search for BlueStacks Cloud Connect.
Download and install the Cloud Connect app on your Android phone.
Open the application and enter the PIN number that you received in your Email.
That's all now you can Sync any application on your mobile with your PC.
How To Download WhatsApp For PC Using YouWave
First of all to download WhatsApp on PC, you have to download YouWave android emulator on your desktop or laptop computer system. Youwave is among the best android emulator software available over the internet.
Once you got installer file of YouWave downloaded then double click on that and then the process will begin. Start following the on screen instructions to finish the process from your side. All you need to do is click on Next, Next and Finish.
After the setup finishes, open Youwave by double clicking the desktop shortcut icon. Once it begins then you'll find an option to start with Free Trial. So opt that.
Now a windows will pop up on your screen. Screen will look like android smartphone's home screen. Open browser from that home screen and open play.google.com webpage.
Once you are on the Google Play Store page, search for WhatsApp Messenger using search box.
Click on install option in front of WhatsApp Messenger app and within few minutes it will be installed. Before installation, it will ask you to login with your Google account. So use your spare account here.
That's it. Once the app is downloaded you can open it and follow the instructions displayed on the screen one after another.
WhatsApp For PC Download Using WhatsApp Web (web.whatsapp.com)
So to use or download WhatsApp on PC using Google Chrome browser you have to visit the official website of WhatsApp Web.
Now from your smartphone open the WhatsApp App and click the menu button on the right top and select WhatsApp Web. This will open a new menu.
Now scan the QR code with your smartphone to pair both of the devices. Do remember that you have to first install the latest version of WhatsApp on your smartphone to perform this task.
Now keep your both of the devices connected to internet until everything gets settled up. Doing this will transfer all of your data from your smartphone to your computer system.
Now wait for few seconds and you are good to go. This screen will show you from how many computer system you are logged in.
Congrats! You are paired and enjoy texting to your friends.
Note:If you want to avoid excess data charges from your operator, then keep your smartphone connected with Wi-Fi network.If you wish to quit out of WhatsApp Web then click on the menu in the web and click log out to come out of the web version. If you have been pairing your smartphone with multiple laptops/PC's then click "Log out from all computers" to log out from the every browser, you logged.
Conclusion
So this is it, you have reached the end now. I hope you are now able to download WhatsApp on PC. As I said above that WhatsApp is now officially available for all by the name WhatsApp Web. You can download WhatsApp on Personal computer or in your laptop by using WhatsApp web. Using it you have to own a smartphone, but if you don't have one then you can download WhatsApp on pc using YouWave or Bluestacks.If you are facing any problem in downloading WhatsApp on pc then do let me know via comments below, I will try to reply as soon as possible. Don't forget to share this post with your friends, family and colleagues, let them know how they can download WhatsApp on PC.