Who doesn't like watching movies? I don't think there is anyone who hates watching movies. It is one of the best ways to get out of stress and to pass time. Watching movies online from computer is easy, as there are thousands of online free movie streaming sites available out there. You can visit any of them and watch movies online for free without downloading and without signing up. But there comes many times when you don't have access to your computer and laptop and still you want to watch movies.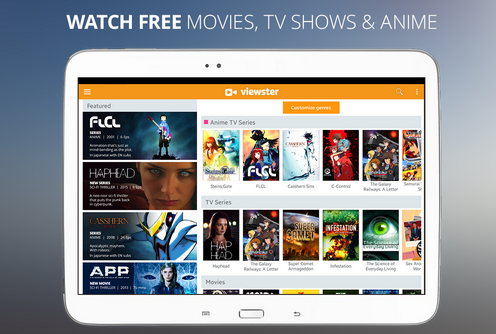 Don't worry you can still watch your favorite movies if you have a Smartphone and Data connection on it. There are many best free movie apps are available to watch movies on Smartphone without downloading. Though you can directly watch movies by visiting any movie streaming sites but it's better to use movies app on smartphone because on free movies apps you'll get lots of features which you'll not get on free movie streaming sites. Also Some Free movie apps provide download option so that you can download the movie too if you want to watch it offline on your mobile. Today we are going to list up some best free movie apps for android and iphone ipod to watch movies to watch movies online without downloading. So check this out.
Best Movies Apps For Android And iPhone iPod To Watch Movies Online Without Downloading
Netflix
Personally i'm a fan of Netflix either its online movie streaming or streaming movies on mobile with app. Netflix is a very popular movie streaming sites though its not free its only gives 30 days trial. once the trial ends you've to buy subscription pack which is cheaper. On netflix movie app you'll get unlimited access of thousand of movies and tv shows. On this you can watch latest release movies and tv shows for free. This is an awesome movie app for both android and ios.
Download for Android                       Download for IOS 
Flipps TV
Flipps TV is a fantastic and one of the best free movie apps for iphone and android which is created by Flipps Media Inc. This amazing app not only allows you to watch movies online for free without downloading on your Smartphone/tablet but also on your TV. That's right, stream media on your phone and watch on your TV. Though this app is free, but there is a paid version of it too, which gives you some more advanced features. With more than 1 million downloads, this app is known as one of the most popular app to watch movies online on android. You can watch movies on it in 1080p format (if available). You can also watch live and on-demand content from your go-to sources. There are more than 100+ channels in it from where you can find and watch your favorite one.
Download for Ios                      Download for Android
PlayBox HD
PlayBox HD is currently one of the best and most popular apps to watch movies and TV Serials on mobile devices. This free movie app is Available for Both Android and Ios devices. This movie app has many features like its daily update so that you will get latest releases TV shows and movies, you can download your favorite movies to play without networking, support subtitles with all language, support Chromecast, support kids mode for your kid and the best part of this app is its completely free and safe
Download Link for PlayBox HD App
DIREC TV
DIRECTV is a small app, but have so much of entertainment stuff in it. You can watch live TV or catch up on the latest movies and shows on demand with this app. It was launched a way back and developers of this app are continuously trying to make this app more useful to people by making changes in it. There are some features in it which makes this app more easy to use, like when you finish watching an episode of a show, the next episode will start playing automatically. You can also use this app to play your programs and movies on TV, and with it you can also use your android mobile device to pause, play, and rewind the movies that are being played on the TV. If you are looking for a handy, yet powerful android app to watch movies without downloading, you must try this app.
Download for iOS                            Download for Android
Google Play Movies & TV
Yes, the internet Giant Google also offers a free movie app by which you can watch movies and TV shows on your android device for free. To use this free movie app, first of all you will have to download movies and TV shows from the Google Play Store. After, downloading or purchasing the content, you can stream that using this app. TV shows are currently only available in the United States, the United Kingdom, Japan, Canada and Australia.
Download for IOS                                     Download for Android
YouTube
We all know about YouTube, and how big its database is. YouTube is world's largest video sharing site. You can find videos on almost all kind of categories in it. It has also added movies to its list and there are plenty of options available and covers almost all languages. While a few movies are free you will have to pay for a few. I have tried YouTube for watching movies and I am pretty satisfied with it. You will not find all movies on it, but most of the movies can be searched via search box. The quality of video will not disappoint you.
Download for Ios                                      Download for Android
Viewster – Movies, TV & Anime
Viewster is another big name when it comes to stream videos online. You can watch full length movies, TV shows and Anime on it. Viewster is Europe's leading free online video service. This free movie App mainly focuses on genuine and original content rather than main stream Hollywood movies, it is also completely free and can be used without signing up. If you are looking for an android app to watch movies for free without downloading, then you can try Viewster. It also supports Chromecast, so you can enjoy videos, movies, anime and TV shows on wide-screen. More than 50 million people have downloaded this app from Google Play Store.
Download for Ios                                      Download for Android
HotStar Live App
Hotstar is a very popular and one of the best free movies apps for Indian users. This app is developed by Start India PVT LTD. It's an awesome app which brings TV in pocket, it allows users to watch latest movies, TV series, Sports  etc. As its provided by Star group so you can watch all the star India's TV Channels including Star Plus, Star Vijay, Life OK, Channel V etc. Not only TV shows you can also watch latest releases Indian cinema Bollywood Movies for free. To watch movies on hotstar you not need to register or signup. Just download the app on your Smartphone and enjoy. Also you can use Hotstar app on your PC.
Download Hotstar for ios               Download Hotstar for Android
Show Box
ShowBox is a fantastic free movies app for android. It is one of the Best free android app to watch movies in HD quality, it allows users to watch favorite TV Shows and latest movies in HD on their android Smartphone for free. But unfortunately this awesome app is not available on Google play store so you need to download it from its official site and then install it on your Android device.
Final Words
These best free movies apps to watch movies online without downloading. These are best in their category and don't require any setup. The free movies you can access from the free movie apps include comedy, action, horror, drama, documentary, family, and many other types of films. There really is something for everyone. These apps will have limited content but free movies are free movies and we can't really complain about. If you know about any other free movies app to watch movies online without downloading, then do let us know about it via comments below we'll update the List.