Everyone love listening to music and singing along with tune because listening to your favorite music can instantly put you in a good mood and it takes tension away from you which will improve your skill and technology makes it more accessible. These days almost everyone own android Smartphone and we always store our favorite tracks, music or mp3 songs on it and listen them whenever we want. Back in times we used to download video or songs in our PC and then transferred to our phone but that time is gone. Now we can easily download our favorite songs on our Android Smartphone using free music downloads app for android.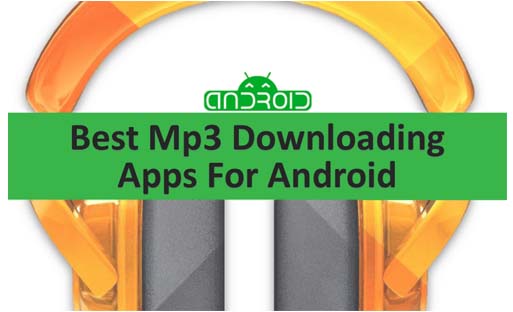 Though there are many sites available which let you download free music but in android its better to use any top best mp3 music downloads app to downloads free mp3 music. There are numbers of free mp3 music download app available on Google play which let you to download mp3 songs for free, but some of them are useless while some are extremely useful for downloading music. So to get rid off from this confuse we've collected some top best free music download apps for android which will help you download your favorite music for free. So lets check out.
Top 10 Best Free Music Downloads Apps For Android
4shared Music
4shared music was created for those who can't live without music. 4shared Music is an awesome free mp3 music downloads app which allows users to download or stream any music online on their android Smartphone or tablets for free. Once you installed this app on your android device, you can search play and download tracks or music files from 4Shared.  You can search and download your favorite music by artist name, title or title and artist name.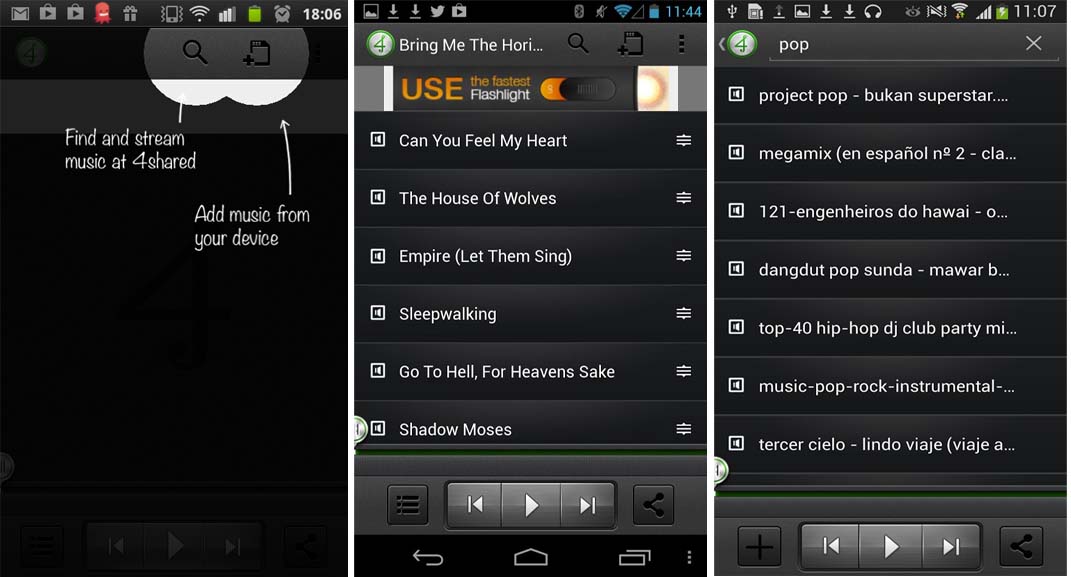 Downloading a song is very simple just tap and hold on a song that you want to download and the select "Download" Also you can play the song before downloading.  You can create a playlist, add your favorite tracks and listen to them from 4shared Music whenever you want. Also you can upload music from your android device to 4shared Music. Get 4shared Music from Google Play
MP3 Music Downloader
Mp3 Music Downloader is an amazing app for free mp3 downloads for android which lets users to search and download any number of legal mp3 music directly from internet for free. This app is absolutely free and there is no Download restriction. Once you download any song then you can easily play that music with its default music player. So you can use it as a music player as well.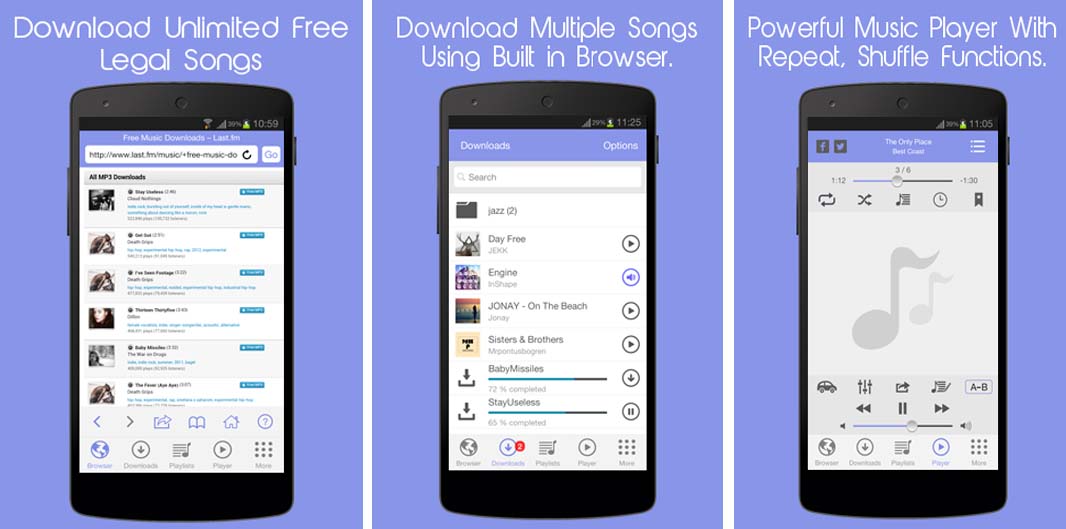 With its built in download manager you can download multiple songs together and you can pause and resume the download at any time. Also it has built in powerful web browser which helps to find and download MP3 songs very easily. Get MP3 Music Downloader from Google Play
Simple MP3 Downloader
Simple MP3 Downloader is an amazing app which lets user to find listen or download a lot of music which are under creative common or Copyleft for free. This app is absolutely free and there is no download restriction so you can download unlimited music.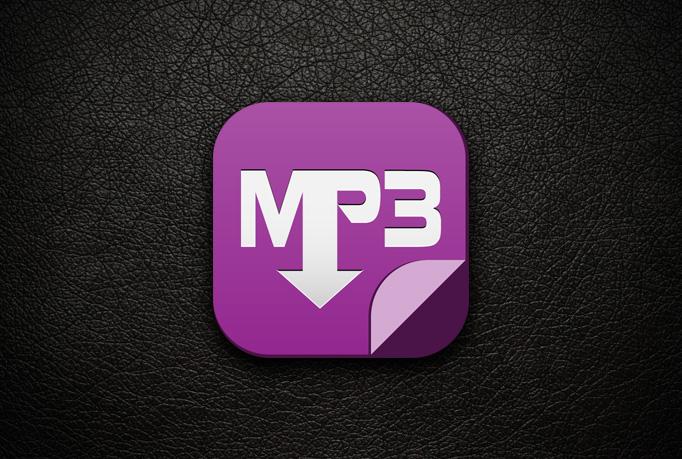 Also you can listen the music before you download it. You can download multiple music at one time; you can pause resume or cancel downloading whenever you want. Get Simple MP3 Downloader from Google Play
Music Maniac – Mp3 Downloader
If you are a music lover like me, then Music Maniac Mp3 Downloader can be so helpful for you. It is a simple to use application with lot of advanced functions. With Music Maniac Mp3 downloader's search engine you can search for your favorite mp3 music.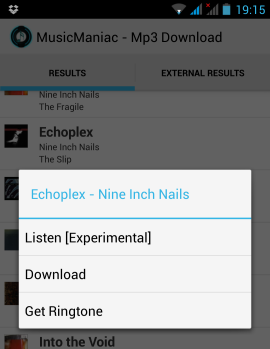 It is very small in size and available for free.Currently this app is not available on Google Play Store, but you can download it from other sources too. It stores all downloaded files in external storage of your phone, which doesn't slow down your device.Sound quality is great for every song and downloads very fast. Get Music Maniac
Tunee Music Downloader
As the name suggests, Tunee music downloader is an application for android mobile devices which allows you to download mp3 music files of your choice to your phone for free. On the top, it have a search box by which you can search for any artist, album or song.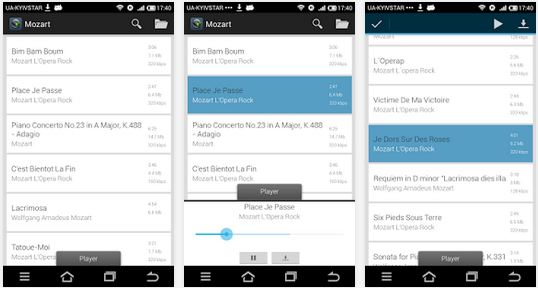 All of the mp3 files offered by this app are tracks from free public domains, so you don't have to worry about their usage and privacy. The quality of sound is good too. Get Tunee Music Downloader
Soundloader for SoundCloud
I don't think there is anyone who don't know about SoundCloud. It is one of the most popular site to stream audio music online. SoundCloud attracts more than 175 million unique monthly listeners, while content creators upload about 12 hours' worth of audio every minute.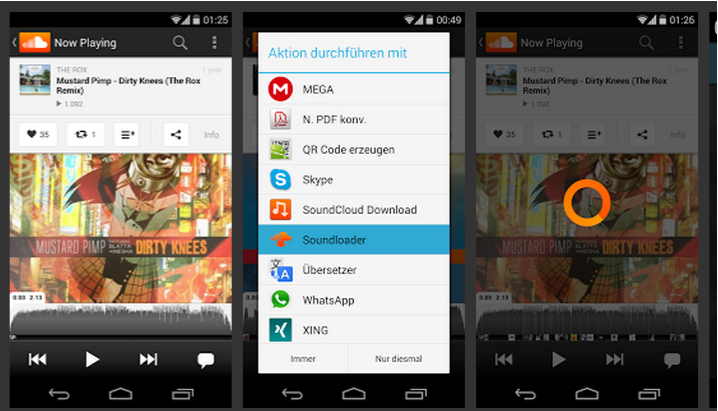 With Soundloader for SoundCloud you can download almost each track of SoundCloud for free. Just "share" your song or playlist from the SoundCloud app or your favorite browser, choose the "Soundloader for SoundCloud" app and the download will start after a few seconds. Get Soundloader for SoundCloud
SoundCore Mp3 Download
SoundCore is another great and popular  free music downloads app which allows you to listen, buy and download mp3 music right from your android device. The developers of this app have paid attention more on search engine, so you will get the best results for your search on this app.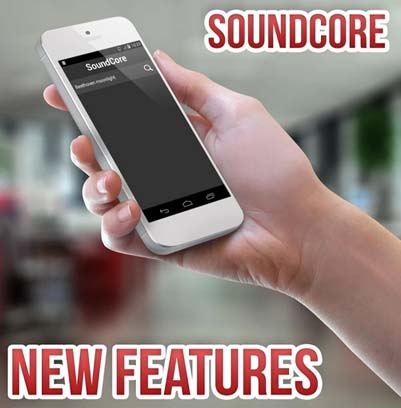 If you have bought a mp3 music, you can download it to your devices SD cards folder "music-download" and can be reached directly from there, from application's embedded music player or from your phone mp3 music players library.You can also share this app with your friends and family via Wi-Fi or Bluetooth. One of the most amazing thing about this app is that you can preview any mp3 file before downloading or buying. Get SoundCore Mp3 Download
Google Play Music
Google is everywhere, so here it is. Google Play Music provides free, ad-supported radio for every situation of your life. No matter where are you and which kind of music do you want, you can search and download it on your android device for free.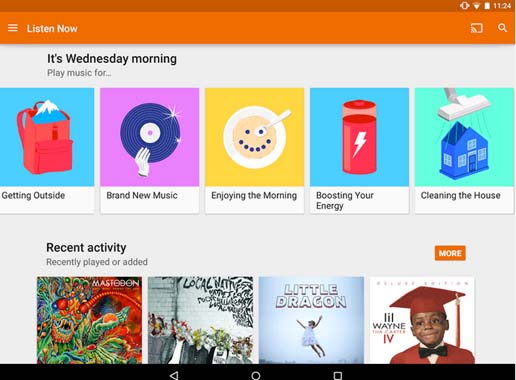 You can also start radio stations based on songs, artists, or albums, or browse by genre, mood, activity, decade, and more. One more unique feature of Goole Play Music is that you can store up to 50,000 songs from your personal music collection. Get Google Play Music
Super Cloud Song MP3 Downloader
Super Cloud Song MP3 Downloader is a great app which lets user to search and download their favorite music for free. Downloading process is very simple, just enter the artist name, album or the title of the song that you want to download and hit search then it will provide you a list of song, just choose your song and click on it to download.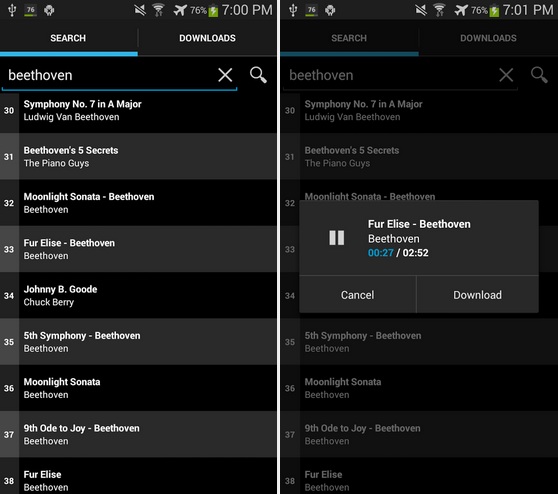 Also this app allows user to stream music online for free and has huge numbers of songs on it. This app is not available on Google play store therefore you've to download it from below link. Get Super Cloud Song MP3 Downloader
Music MP3 Download Free Copyleft
Music MP3 Download Free Copyleft is an music downloader app for android that allows user to listen or download songs which are under creative common license or Copyleft. With its search features you can easily search any song by entering song name, artist name or albums names.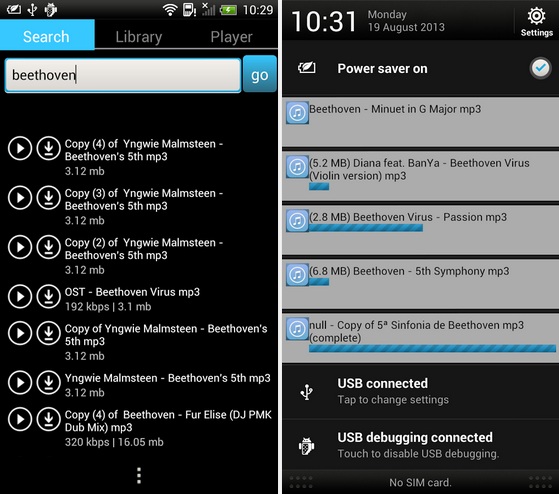 This app is not available in Google Play Store therefore you've to download it from below link. Get Music MP3 Download Free Copyleft
Conclusion
These are some best free music downloads app for android. There are lots of music downloader available for android and these are only 10 of them so don't hesitate to try any other music downloader app for android. If you are using any other good music downloader then feel free to share with us in your comment and we'll update it in our list.