Kik Messenger is an instant messaging app which is developed for Android device, iPhone, Blackberry and Windows Phones. Kik is similar to BBM, whatsapp and any other messenger but day by day it becomes more popular because of its simplicity and features offered than other messenger available for android smart phones. You can chat with your friends and send then text messages, pictures, emotions, audio and video files through this app. Due to its features and popularity many people wants to download Kik massager for PC but now it has not built a PC version to download it for computer. But don't be disappointed, because there is a way to download Kik Messenger on your PC and here we discussed how to get Kik Messenger for PC and enjoy all features of it.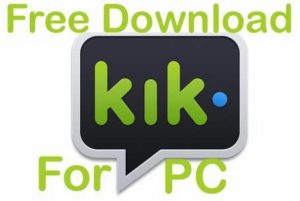 Features of Kik Messenger
Before any steps we would like to tell you some features of this app but if you already aware about the features of Kik Messenger then Skip this part and go for next part.
Kik is an amazing instant messaging platform. The user interface (UI) of this app is extremely simple and easy to use. You can send unlimited number of text message, picture, voice message and video for free to your friend who are using KIik. This app provide notification for sent message, read, delivered and for typing.
This app does not want your mobile number for creating your account unlike Whatsapp , your account will be created with your user name and password and that's why Kik messenger is more secure than Whatsapp or any other messenger and also its privacy features are better than any other.
This app is reliable and already being used by millions of users. According to its official status, 90 million users are using Kik messenger to stay connected with their friends. So you can use it without any worry.
Steps to Download Kik Messenger for PC
Although Kik messenger is available only for smart phones users only but we still have ways to download Kik Messenger for PC like Whatsapp on PC. To download Kik messenger you need an Android emulator that will help you to download and install Kik messenger on your computer. There are three Android emulators available such as BlueStack, You Wave and Android's official emulator. But we recommend BlueStacks because of its popularity, user-friendly interface and efficient performance.
First of all go to BlueStacks official website and Download BlueStacks App player and install it in your PC like other applications.
Once you install Bluestacks, Run this app and click on Search button and then Search for Kik Messenger.
After finding the Kik Messenger you will see the Install button next to Kik and click on it. Wait few second until the app is completely installed.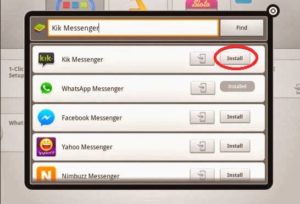 Once you complete all above steps sign in to Kik Messenger on your PC and then you will be able to access your account through your PC.
That's all and now Kik Messenger is ready for PC and enjoy all features of it.
Check How to Solve BlueStacks Graphics Card Error?
Conclusion
Kik Messenger is one of the best instant messaging platform which is only developed for Android device and others Smartphone, but using the above method you can download Kik Messenger for PC and you can use it on your pc without any hassle. Basically the above steps mentioned that just download and install an Android Emulator on your PC and install Kik messenger on it. The whole process will takes 5-10 minutes.
If you have any question or face any problem, let us know in your comment and we will help you. Hope you like this and if you like this then don't forget to share it with your friends.