After Soccer, Cricket is the most popular sport in the world. People of every age loves watching or playing cricket. While there are several ways to watch cricket matches, still some people misses it as they don't have a TV or FM radio nearby. Technology is making our life simpler, so does our entertainment stuff like watching movies and cricket. There are many apps to get live cricket match updates available over mobile apps store that can help you in getting live cricket scores apps or let you stream cricket matches live from mobile. Android is one of the most popular mobile operating system in the world. So here in this post we are going tell you about some of the most popular and top best live cricket streaming apps for Android mobiles and tablets.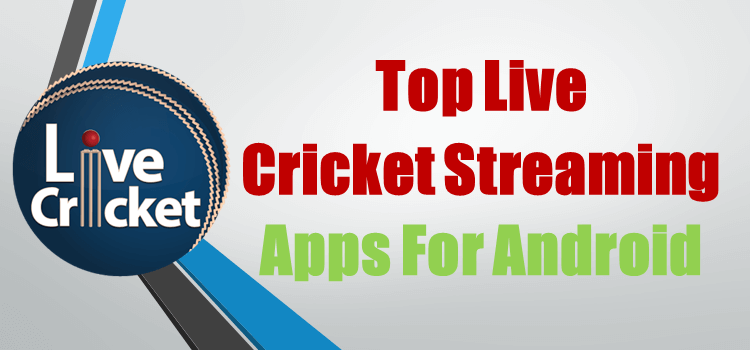 While there are internet users who are using free sports streaming sites to watch live sports without registration, but having live cricket streaming and live score android apps can help you in those time when you don't have access to TV or computer to watch matches. If you are a cricket fan too, then you can download top live cricket streaming apps to watch cricket live from mobile devices. So, let's get started with the list of best Cricket Streaming Apps and Live Cricket Score Apps.
Live Cricket Scores and Streaming Apps To Watch Live Cricket On Mobile
Hotstar app is launched officially by Star Network, and you can watch live TV shows and cricket matches using this app. Hoststar is pretty famous app among Indians, when it comes to live cricket streaming. This app streams multiple TV channels including sports channels so you can watch cricket match from mobile. The only thing that makes it less worthy is that it uses high data while displaying cricket scores or streaming matches. Another good thing about it is that Hoststar is available for free on Google Play Store for Android and iTunes Store for iOS devices.
Star Sports is a sports TV channel, we all know that. But there are only few people out there who knows that they have a mobile app too. Star Sports mobile app can be used for viewing live sports matches for free, including cricket, rugby, basketball and many more. Definitely, this app is one of the best streaming app for Live Cricket. Along with live scores, you can also get information like match schedule, fixtures, results, highlights, gallery, videos, and many more right from the app.
ESPNcricinfo Cricket app is not just another cricket app of this list, but it is one of the best way to stay updated with various sports breaking news, player stats, records, rankings. You can also use this app to compare players and teams. It can also be used to watch and listen latest ESPNcricinfo video and audio podcasts.You can view all LIVE matches scores at one place using ESPNcricinfo Android cricket app. You can also get text, audio and videos of the match you were watching.
Cricbuzz is a mobile app that doesn't need any introduction. There are millions of people out there who are using Crizbuzz to get latest match updates. This app is perfect for cricket lovers as it displays every information about cricket matches like live scores, fixtures, highlights, news and many more. If you are the one who wants to get live cricket scores on your mobile, then this app is must download. It also allows you to hear ball by ball commentary in English and Hindi language. Real time match alerts is just another option available for you to get most out of this app.
If you are a teenager, then you might remember Ten Sports as memories of WWE. Whenever someone says about Ten Sports, memories of RAW and SmackDown flashes in. If you are into cricket, even then you can use this app as they have introduced stream live cricket matches. You can watch almost any kind of matches and series on it like IPL, Under 19 World Cup and more. Soon they are going to add more features in this app like live cricket scores, commentary etc.
NDTV is an Indian television media company which was founded back in 1988. Recently they launched their mobile app that lets you know about cricket and sports. The good thing about this cricket mobile app is that it shows new updates daily. By using this free live cricket score app, you can get to know about ball to ball commentary, match data, prediction and summary. If you are looking for a simple, yet effective android cricket app to get live cricket scores updates for free, then NDTV Cricket App is a must have.
Conclusion
By using above mentioned best apps for cricket live score, you can get updates of every cricket match right on your mobile screen. Though there are many more cricket apps available over iOS app store and Google Play Store, but above mentioned apps are best cricket streaming and score app. Do note that some of above apps like Cricbuzz and Hotstar are available as iOS cricket apps too. If you know about any other good Android apps for live cricket score and streaming, then let us know about them.