Do you know that you can save Gmail attachments to Google Drive directly, without using any third party app or software. Yes, the most popular email messaging service of the world from Google, Gmail allows you to store attachments of an email on Google Drive for free. Now a days, email services have improved so much and people are using for business as well as personal means too. There are many people out there who sends files to each other via Gmail as it save a lot of time, and gives you a free quick way to share files with others without using any other specific app.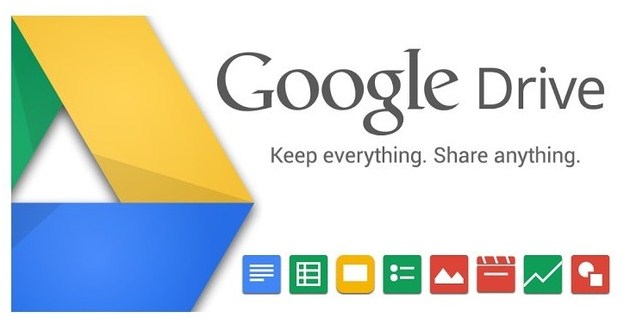 Google Drive, which is just another amazing service from Google, helps a user to save his data on cloud for free. By using Google Drive, you can save up to 15GB of data for free of cost on cloud, if you want to extend the storage limit, then you can buy it. The most amazing thing about Google Drive is that it can be accessed from anywhere. It doesn't matter which device you are using, either a Laptop, Desktop, Mobile or Tablet, you can get your files on it. There comes many times when you have received an important file on your email, and you want to keep it at safe place so that it won't get lost or deleted, though Gmail saves your emails and attachments too but you can save them on Google Drive for security, backup, or sharing purposes. Below we are going to share some of the best ways to save Gmail attachments directly to Google Drive.
Best Ways To Save Gmail Attachments To Google Drive
Method 1: Move Attachments To Google Drive From Inside Gmail
First of all open the email in which you have attachment that you have to send to Google Drive.
Now scroll down till you see the attachments, and when you will hover your mouse on the attachments, you will see 2 icons. One is of Download and other one will be of Google Drive.
Now if you want to download the attachment then you can click on the Down Arrow button, and if you want to move it to Google Drive, then simply click on Google Drive icon.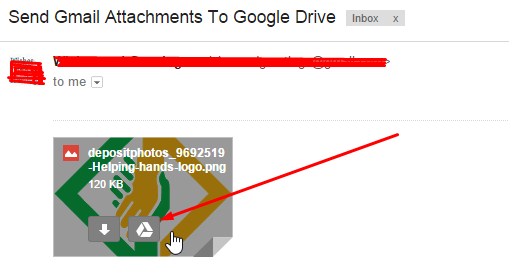 Once you have clicked on Google Drive icon, you will get a notification on the top that the "Attachment Has Been Saved To Google Drive". You will also notice that a box will appear just below the Google Drive icon which you can use to organize the file in your Google Drive.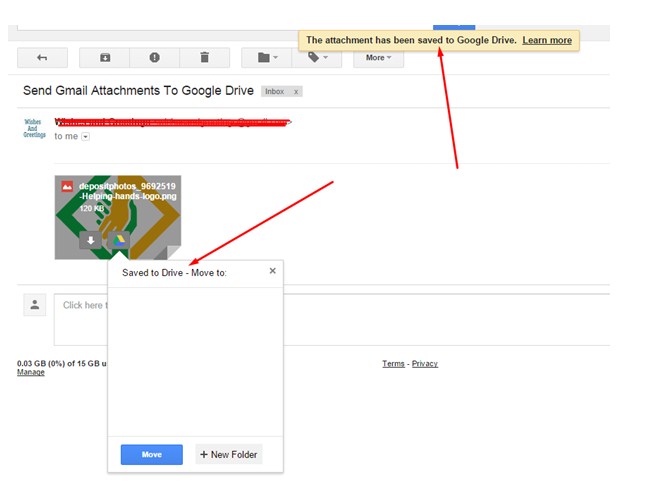 Method 2: Move Gmail Attachments To Google Drive Using Print Option
The 1st method works pretty fine for most of the people, but still if you are facing any problem in it or you just want to try out another way to send Gmail attachments to Google Drive, then you can use this 2nd method.
First of all sign in into your Gmail account and open the mail in which you have attachment file.
When you are on the mail page, look for the Print Icon, which will be on the far right corner of the screen.
Just click on it, and a new print window will open on your screen. Now click on Change from the Destination tab.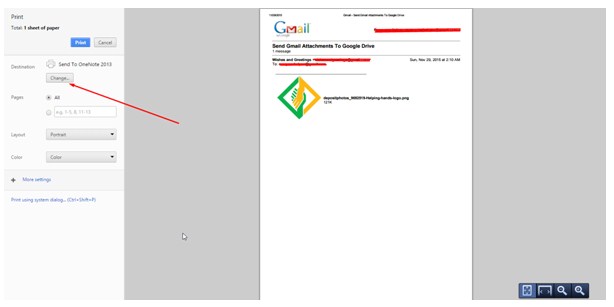 When you will click on Change, then a list will open up with all the options you can perform with the attachment. Just scroll down and at the end of the page you will see an option Save To Google Drive, just click on it and then click on Save button, and your attachment will be save to your Google Drive account. Do note that your whole email will be saved in PDF format and will be immediately accessible from your Google Drive.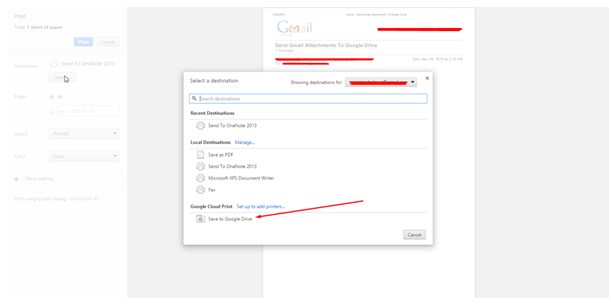 Conclusion
So friends these were some of the popular and working ways to save Gmail attachments on Google Drive easily. Though there might be some more ways to do that, but according to us these are some working ways. If you know about any other way to save Gmail attachments to Google Drive, then do let us know about it via comments below.