YouTube is the world largest and most popular video streaming site with 3 million viewer per day, where peoples can easily share, upload and watch videos for free and most of the people use YouTube to watch online video,
stream movies
, clips etc. Watching videos on YouTube is a great fun if you have high speed internet connection, but the same thing become a nightmare for those who have slow internet connection, because most of the people encountered the problem of slow buffering speed of YouTube videos while watching videos on YouTube. That will most irritating time for you when your video stop playing and buffering start again and again after few seconds and this is the most common problem to all of us. But don't get disappointed because today in this article we are going to show you how to increase YouTube buffering speed that will help you to watch YouTube videos clearly on slow internet connection.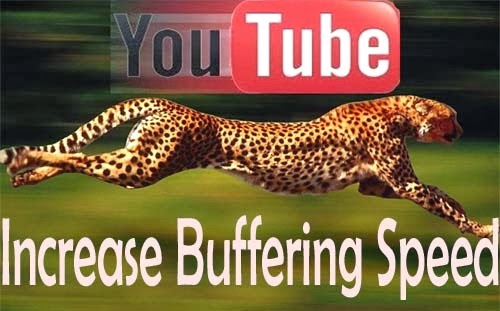 Factors depends on YouTube Buffering Speed
May be you want to know on what factors does YouTube buffering speed depends? YouTube buffering speed primarily depends on your internet connection that means speed or bandwidth of your internet connection. Also it will affect YouTube buffering speed if you have old hardware configuration computer.
Tips & Tweaks to Increase YouTube Buffering Speed/Speed up YouTube Videos
If you have a slow internet connection and you are in trouble while watching YouTube video because of buffering speed then follow the given tips and tweaks to increase YouTube buffering speed.
Increase Your Internet Speed
This is the very old and best method to increase YouTube buffering speed by increases your internet speed. Microsoft windows operating system reserve 20% of your available bandwidth for system purpose. Therefore you must be reset the reserve bandwidth to get maximum internet speed on your system and we already discussed in our previous post How to increases Internet speed. This tricks will increase your internet speed by 20% which means you are increasing YouTube buffering speed as well.
Join YouTube Feather Beta
Google always try to serve better and fast service than others and YouTube Father Beta is also one of them. YouTube Feather Beta is a technique that allows you to watch your favorite YouTube videos by providing the lowest latency i.e by increasing buffering speed of videos. They lunch this service because YouTube is not optimize for low bandwidth connection. It helps low bandwidth or slow internet connection user to watch YouTube videos faster than before. So just go to YouTube Feather Beta page and Join the Feather Beta then search for videos and start watching, you should feel the difference in buffering speed.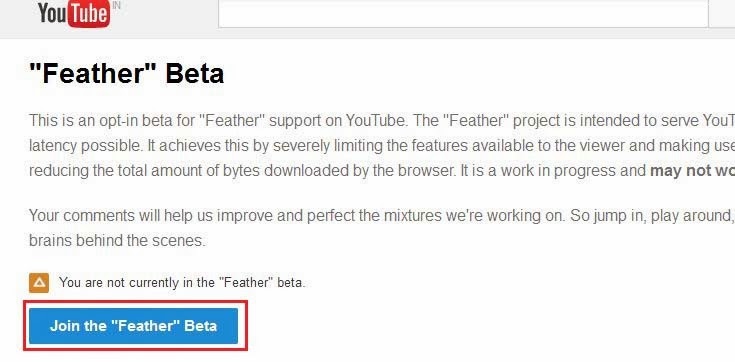 Limitation of Feather Beta:
Also there are some limitation in YouTube Father Beta option, Such as
You will not able to comment anymore.
Only 5 related or suggested videos being displayed.
You will not able to like or dislike the video.
The bandwidth which is used to load these things will be utilized to increases buffering speed of YouTube videos.
Use YouTube DNS Server
Using YouTube open DNS server will help you in speed up YouTube videos buffering.
For XP users:
Open Control Panel and go to Network Connection.
Select your internet connection and perform a Right Click on it and then choose properties.
Select Internet Protocol (TCP/IP) and click on properties.
Now enter the following value in Preferred DNS and Alternate DNS

Preferred DNS: 208.67.222.222
Alternate DNS: 208.67.220.220
For Windows 7/8/vista Users:
Go to Control Panel > Network and Internet > Network and Sharing Centre > Change Adapter Settings at left side.
Now select your internet connection and perform a Right Click on it and then choose properties.
Choose internet protocol version 4 (TCP/IP) and select properties.
Now enter the following value in Preferred DNS and Alternate DNS

Preferred DNS: 208.67.222.222
Alternate DNS: 208.67.220.220
Then click ok and it's done.
Increase Buffering speed by Using PC Tricks
Now follow the steps to increase YouTube buffering speed through PC.
Go to Run and type system.ini and hit enter.
Now a Notepads will appear where something written like
; for 16-bit app support
[386Enh]
woafont=dosapp.fon
EGA80WOA.FON=EGA80WOA.FON
EGA40WOA.FON=EGA40WOA.FON
CGA80WOA.FON=CGA80WOA.FON
CGA40WOA.FON=CGA40WOA.FON
[drivers]
wave=mmdrv.dll
timer=timer.drv
[mci]
Now copy the below text and Replace with above text in Notepad.
page buffer=100Tbps
load=100Tbps
download=100Tbps
save=100Tbps
back=100Tbps
search=100Tbps
sound=100Tbps
webcam=100Tbps
voice=100Tbps
faxmodemfast=100Tbps
update=100Tbps
N.B: before doing anything make a backup of system.ini file, because if anything goes wrong then you can replace the file with original one.
Using SpeedBit Video Accelerator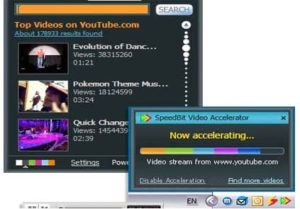 SpeedBit Video Accelerator is a software that will help to watch YouTube video in faster speed. Not only for YouTube, has it worked well with more than 165 video sites like Yahoo Video, Facebook, AOL, Myspace etc. SpeedBit Video Accelerator comes in both free and premium version. Free version supports only normal quality videos acceleration where premium version supports both normal and HD quality video acceleration.
Download Speed Bit Video Accelerator and Install it.
Conclusion
These are some working tips and tweaks to increase YouTube buffering speed. If you follow and apply above tips properly then you will definitely notice an increase in YouTube videos buffering speed. So let us know your experience in your comment after applying the above tips & tweaks.